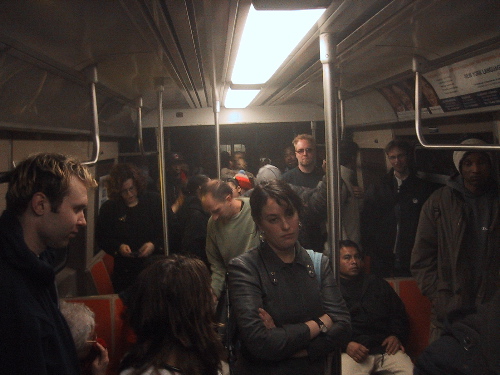 I was riding the subway back to Brooklyn early this evening, immersed in my book, when a guy got on the train and immediately started ranting. He smelled bad, a mixture of stale alcohol and rancid clothes. He walked with difficulty, partly due to the alcohol, and he also seemed slightly disabled. As he commenced his rant, I assumed that a plea for money was coming, as is usually the case in these situations, but he never asked for it, nor did he have a cup in which compassionate subway riders could place their change. No, this guy was all about the rant. And here it is, to the best of my recollection:
(Imagine, if you will, an angry, thick Brooklyn accent, an improbable lisp, and some alcohol-induced slurring of consonants).
G'ahead! G'ahead!
(screaming)
Call me whaddever you want.
I know what you think of me.
I'm a BUM!
That's right, I'm a bum!
So shoot me!
Throw your garbage at me!
Okay, he's got my attention.


Laugh at me if you want, I don't care.
Call me whaddever you want, I don't care.
I know what I am.
People throw garbage at me all the time.
G'ahead! Do it!
I put down my book. I look at him.
Everyone calls me a bum.
I don't care.
You know why I don't care?
I'll tell you why.
It's cause I know what I am.
Do you know who I am?
I didn't.
I'll tell you who I am.
I'm God.
Leaking of eyes. Quivering of chin.
Yup, that's right, everybody.
I...AM...GOD.

(still screaming)
Tear duct overflow....damn.
You don't believe me?
Well, that's your problem.
That's your biggest fucking problem.
All of you.
You don't know that I'm God.
And you know what?
You're God too, and you don't even know it.
What a bunch of assholes.
Severe eye leakage. Mascara impaired.
Incoming Kleenex.
If you knew who you really are, your head would fucking explode!
You'd be so full of love you wouldn't know what to do with it!
Well let me tell you something, assholes.
You are God, and you are love.
You're no better or worse than I am.
So g'ahead! G'ahead!
Shoot your garbage at me!
Shoot your garbage at God!
There was more, but I was too busy tending to my southbound snot and mascara to remember the rest. Wow - talk about a Power Point Presentation! This guy was
good.
You just never know where those dang Advaitans are gonna turn up. Thanks, man.
Above: Not my subway car, but it coulda been. This was the kind of reception this guy got, except from me, of course. If he'd been selling books on motivational speaking, I'd have bought one.