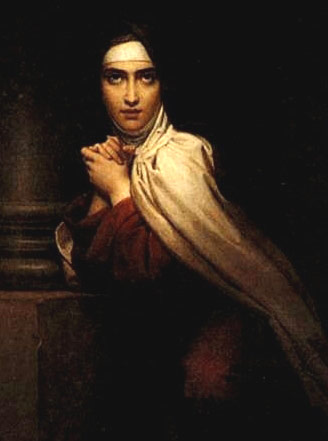 I'm working on a new text drawing taken from the writings of the Christian mystic St. Teresa of Avila. The book is called
'The Interior Castle'
, and it describes the seven mansions that are entered as one gets progressively closer to the Presence of God. I'm cutting the letters from
'Mysterium Coniunctionis'
by Carl Jung, which many consider to be his master work. The book uses alchemy as a metaphor for the process of the arriving at the conjunction, or union of opposites, which is a necessary component in psychology and spirituality. Where there are opposites there is duality, separation, and conflict. When opposites can be held simultaneously and redefined as a paradox, there is the possibility of resolution and realignment. The
'mysterium coniunctionis'
, or 'mysterious conjunction', refers to this accomplishment. It's also referred to in Jungian psychology as the 'sacred wedding', when the male and female components of the individual align and fuse, or 'wed', and the person recognizes her/himself as a fully conscious and realized chimp.
Enlightened? Jung wouldn't go there. For him, enlightenment was all about the union of opposites: when opposing factions unite, there is a synthesis, and from that paradoxical unity springs forth Self-realization. He would have considered enlightenment as the end point of the individuation process, the fully realized Self, whereas mystics such as St. Terry used the metaphor of Christ and His Bride to describe the blissful state of having awakened to one's Self. Check it out:
God dissolved my mind – my separation.
I cannot describe my intimacy with Him.
How dependent is your body's life on water and food and air?
I said to God, "I will always be unless you cease to be,"
And my Beloved replied, "And I would cease to be if you died."
- St. Teresa of Avila
An advaitan! Who knew? She was pretty serious about this wedding stuff. She was hot for God all right - some of her writings get downright saucy. I'm having fun creating the text; I'm making the letters into a castle. Even has a little moat and drawbridge. And turrets, of course. I think St. Teresa wouldn't mind being associated with Jung, and had she lived four centuries later, she might have sought him out as her analyst. Clearly she had unresolved Father issues.

As for Jung, I suspect that he too would be okay with my pairing him up with Teresa. White western male authority figure teams up with white female submissive mystic - talk about a union of opposites. I'm sure they would've made a lovely couple.
Above: There's the old girl herself. Looks to be painted by a post-PreRaphaelite. I suspect that she wasn't this sexy, but it's anyone's guess.